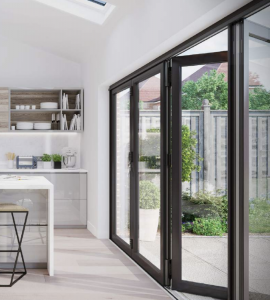 Bi-fold doors – it goes without saying that these types of doors are one of the most popular type of door around.
This type of door has multiple benefits – luxury without compromising on quality.
What exactly is a bi-fold door?
As they are described, they are a type of folding or sliding door which are made from a number of panels that can fold in and fold out of a space.
These types of doors are so multifunctional – they can be installed in both internal and external locations.
How do bi-fold doors work?
A bi-fold door operates like a concertina – so they fold back quite neatly via a built-in tracking system. They operate very smoothly through the track to open and close.
Each panel on the door is hinged together which makes it easier to open and close the doors.
Benefits of bi-fold doors
Unlike other doors such as patio doors or French doors, bi-fold doors are much slimmer.
Due to their width, bi-fold doors offer maximum space and visibility of your room. Commonly, bi-fold doors are used to open a room into the outside – connecting you to your garden/outdoor space.
Bi-fold doors allow a good amount of natural light and air into the room.
As a result of the natural light and airflow – you may notice a reduction in your heating and electricity bills.
Low maintenance – you just need to keep up to them with regular cleaning and dusting.
Bi-fold doors have multiple locking points to help with additional security.
Bi-fold doors can add value to your property as they are so popular.
In summary:
Bi-fold doors are one of the most popular type of doors in the commercial and domestic market. They not only look great, but they offer countless benefits, creating more light and space.
If you are considering adding bi-fold doors to your property, do give us a shout. We would be more than happy to offer advice, pop out to visit your property and give you a free quotation.