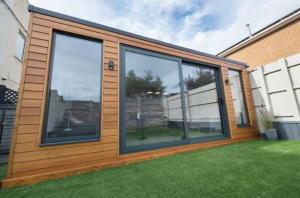 Of late, we've seen a huge increase in demand for garden rooms – particularly during lockdown for obvious reasons – they are so multifunctional.
Some people may think of a garden room as a shed – but it is much more than that. Garden rooms have evolved over recent years into an extension of the home and the uses for a garden room are endless – work, play, relax or embrace nature – the choice is yours.
Here's some of the highlights of why a garden room would make a great addition to your home:
Your own space
A garden room is a completely separate space away from the hustle and bustle of your home. It can be a room that you can escape into and do whatever you want to, including reading a book, practicing yoga and more.
A work space
Research has shown that it's important to have a separate space to work in, it encourages better sleep, better health and overall improved efficiency. In April 2020, 46.5% of people in employment did some work from home and whilst some have returned to work since lockdown, many continue to work from home.
For entertaining
A garden room can make the perfect space to entertain friends away from the house. Many people add small bar areas, kitchens and seating, dependent on size. If you choose a good quality garden room, they are well insulated and soundproof (great for the neighbours).
Being outdoors
A garden room is an element of your garden; you can enjoy being outside whilst spending time inside a functional and contemporary environment. Most garden rooms are designed with ample natural light, usually through large windows and doors – giving you the feeling of being outside.
Avoid planning
Most garden rooms fall under the guidelines of permitted development (unless you need plumbing), meaning that you can build your garden room without planning permission.
If you would like to find out more about having a garden room installed, get in touch with our team.