I

f you've never heard of Accoya wood before – it's probably time that you familiarized yourself with it as it's pretty innovative.
We all love traditional timber windows & doors, but traditionally the maintenance of them has always been a challenge. Accoya is transformational in this respect as you don't need to maintain it.
So what is Accoya?
Accoya is a high-performance modified wood, which is created by transforming certified sustainable wood into Accoya wood through a process called acetylation. You can find out more on this process here (Link: https://www.accoya.com/uk/acetylation-what-is-it-and-what-is-acetylated-wood/)
Benefits of choosing Accoya for your timber windows & doors
50 year warranty – peace of mind knowing that you can rely on this material.
Highly stable & durable
With Accoya, your windows and doors won't swell/shrink during the winter months. So struggling with opening and closing your windows and doors with difficulty will be a thing of the past.
Lock in the warmth – Accoya is naturally insulating helping to keep down the prices of your energy bills.
Easy to work with – Accoya is available in a variety of finishes to help you achieve the desired finish of your doors and windows.
Sustainable – they are far more environmentally friendly than your traditional uPVC and other materials. It is non-toxic and has no risk of leaching any chemicals.
Requires minimal maintenance saving time and money
Sustainable timber windows & doors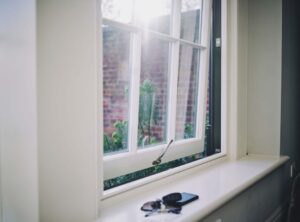 Accoya is a sustainable choice due to its low carbon footprint. From source to production and through to end of life, this product really stands out from the rest.
All Accoya timber has been harvested responsibly from well-managed forests that are continuously replenished and ensure that there is no damage to the surrounding environment.
Whilst we love working with Accoya we still work with other materials such as oak and other hardwoods.
If you're looking at adding timber windows & doors to your home, do give us a shout to discuss your requirements. We're more than happy to discuss the options and suitability for your home.